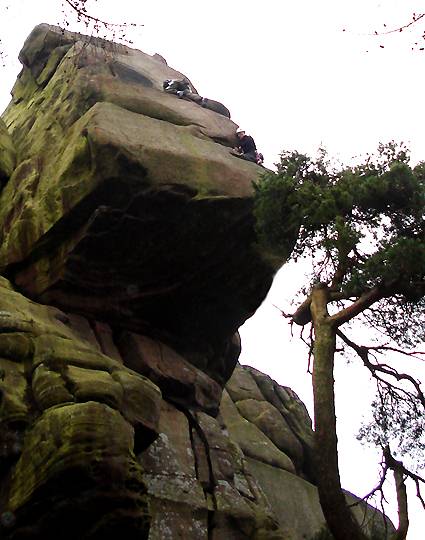 Graham's done the hard bit... I'm just finishing the route.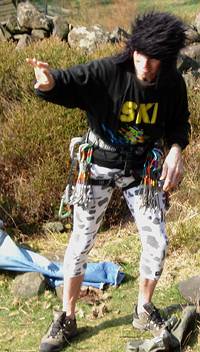 No caption necessary.
The Roaches 23rd March 2007

Tony, Graham and I went to The Roaches on Friday 23rd.
The weather was superb when we arrived, but by the time Tony had started the first route of the day, the inevitable clouds had arrived and it was starting to cool off.
This first route was supposed to be HVS5a, but when Tony backed off it with cold hands, there was obviously something up. That is to say, Tony backed off the route after giving the pair of young climbers next to us stick about bringing a bouldering mat and then pleading to borrow it while he down-climbed. Sometimes your words can comne back to haunt you...
I managed to force my way up the route and Graham seconded it, but we decided it must be E1... maybe 5b.
Then we went up to The Valkyrie section and Graham started to lead Valkyrie itself. This is inexplicably graded VS4c. 4c, yes, maybe even 4b as there is little or no climbing of any value on the route. But VS? I don't think so.
This is probably the nastiest route I can rememeber climbing aywhere, with no redeeming features. It is wandering and contrived with almost inevitable rope drag and as I say, no real climbing anywhere, but lots of grovelling along ledges.
Graham led the first 4/5ths and I scrambled up behind him and finished the route off. Three star my arse! I give it three dog turds. A complete waste of time.

So it was an interesting day, with Tony backing off an HVS and me finishing it and then we had nightmares on a VS.
On the way home, Graham got flashed by a speed camera.
Not a perfect day at all.